Here are some examples of the work I'm doing for my future application to animation school... Someday. For now, I'm staying in Halifax. Doesn't hurt to get started though, does it?
The portfolio asks for 5 examples of hand and 5 examples of foot drawings. here are some examples!
This one looks kind of "epic"... it was done in watercolour and the scanner elaborated the wavyness of the paper. I left it that way because it made it stand out.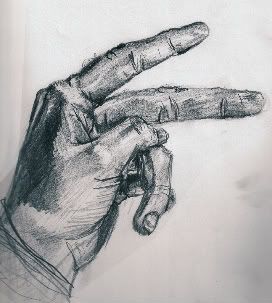 Here is something I drew the other day, I'm thinking about working it up in photoshop as a sort of logo or something. Plans are unfinished at this time.